Campground Rates and Site Map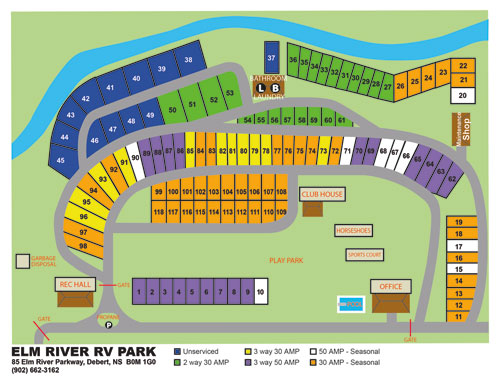 We offer 70 overnight sites (including big rig sites and tenting sites), plus 40 seasonal sites. Facilities include laundromat, washrooms, and showers (all with ramped access). Guest amenities include firewood, propane (cylinder and motor home refills), camping and RV supplies and service, horseshoes, free showers and wireless Internet. Activities include swimming in the pool and tubing on the river.
Please
click here
to view and/or print a full-size layout map of our campground.
Store Hours are: 9am to 8pm.
Pool hours may vary during our nonpeak season, please ask staff at the store for more details.
2024 Season Rates
DAILY RATES:
$53.92 plus tax for a 30 amp / 3 way site ($62).
$56.52 plus tax for a 50 amp / 3 way site ($65)
$52.18 plus tax for a unservice / tenting site. ($60).
WEEKLY RATES:
$293.52 plus tax for a 30 amp / 3 way site. ($337.50).
$309.12 plus tax for a 50 amp / 3 way site ($355.50).
$289.08 plus tax for an Unserviced tenting site ($332.45).
Please note that weekly stays are for 6 consecutive nights. By booking a week, you would save about $5/day from regular rate..
MONTHLY RATES:
$1,317.60 plus tax for a 30 amp / 3 way site. ($1,515.25).
$1,395.60 plus tax for a 50 amp / 3 way site ($1,605.00).
$1,265.40 plus tax for an Unserviced tenting site ($1,455.20).
Please note that monthly stays are for 30 consecutive nights. By booking for 30 consecutive days, you would save about $10/day from regular rate.
SEASONAL RATES:
$2000 plus taxes in for a 30 amp= $2300.
$2086.95 plus taxes in for a 50 amp= $2400.
Cancellation Policy:
Our cancellation policy requires 48 hours notice prior to check-in time on your arrival date, and is subject to a $10.00 + HST processing fee.
If you cancel with less than 2 days notice, no refunds are issued.
Campground Policy
To make everyone's visit enjoyable we ask that you review and abide by the following guidelines:
Speed limit is 15 km/hr.


Quiet hour is 11:00 p.m. Excessive noise is prohibited at any time. Children are to be on a lot by 10 p.m.


Early check in or late departure is subject to a $10 plus HST fee and availability.


Drinking and driving or substance abuse is not tolerated in the park. Please keep consumption of alcohol to your campsite.


No refunds will be given for early departure, misconduct or for inclement weather.


Dogs are more than welcome on this campground however we do strictly enforce our animal policy. Please keep your dog tied or on a leash; do not leave your dog alone for extended periods of time and have it refrain from excessive barking; clean up after it regardless of where it may have left its droppings in the campground.


All visitors are to register at the front office and are expected to leave by 10:00 p.m. Cost to visit is $2.00 per person. Overnight guests will be charged $5.00/person. We do not allow any new visitors after 8:00 p.m. If you think you will have guests during your stay with us, please make them aware of this policy.


Open campfires are permitted unless notified by Department of Natural Resources. Please use fire pit provided, and do not relocate fire pits as the water and electric lines run very close to the surface and heat from fire may damage these lines as well as damage the property. Any damage caused from a relocated fire pit will be the responsibility of the registered guest of that site. Firewood is available at the store. Do not cut any trees in the woods for campfires. Do not leave your campfire unattended. We ask you not to transport wood into the campground.


Colchester County is a Clear Garbage Bag Policy - as a result we do not accept black, green or white garbage bags in our campground. Please use clear bags and sort all your garbage. All clear bag garbage, recyclables and compost should be brought directly to the dumpster at the entrance of the campground. Leaving any garbage on site/ or in fire pits will result in a $25 charge. Please see staff if you have any questions regarding sorting. We ask that you not burn plastics in your fire pit.


Each site is allowed one RV/Trailer and a tent for children ~or~ two small tents. One family per site - family consists of two (2) adults (parents) and up to four (4) children. Extra adults will be charged $5.00 per person.


Parents are responsible for their children in the campground always. If your child is going to swim, please adhere to the rules and accompany them if they are under 10 years of age. Children must not drive bicycles past dusk.


There are to be no fireworks in the campground, except for those organized by the campground.


No one without a valid driver's license may drive in the campground. We do not allow ATV's to be driven in the campground as a form of transportation within the park. No Golf Carts are permitted for short term reservations.


Please do not wash vehicles or RV's in the campground.


Outdoor RV carpets and mats may be damaging the grass and we may ask for you to remove them.
The management reserves the right to refuse admittance or to evict anyone not complying with the above rules, with no re-reimbursements.