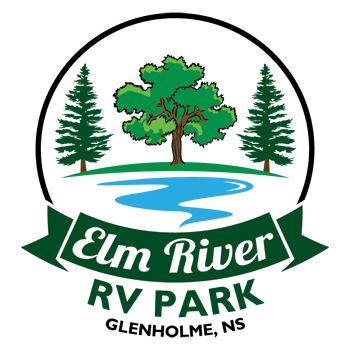 Welcome to Elm River RV Park

Elm River RV Park is an open and wooded campground in Glenholme, located in the Truro area of the Bay of Fundy & Annapolis Valley Regions. This region has much to offer visitors. Nearby attractions include historical museums in Truro, several golf courses, shopping and dining, the world's highest tides and the Tidal Bore, Victoria Park, berry U-Picks (strawberry, raspberry, blueberry) and bass fishing.
We offer 70 overnight sites (including big rig sites and tenting sites), plus 40 seasonal sites. Facilities include laundromat, washrooms, and showers (all with ramped access). Guest amenities include firewood, propane (cylinder and motor home refills), camping and RV supplies and service, horseshoes, free showers and wireless Internet. Activities include swimming in the pool and tubing on the river.
HOURS OF OPERATION may vary - Season is from May 15 – Oct 15.
© Copyright 2023 Elm River RV Park and Campground | about us | privacy policy | contact us